Details
Basic Information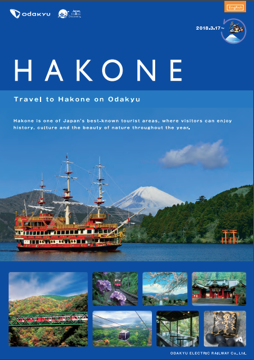 You only need 1 ticket for Hakone travel!
Ride 8 forms of transit, including the Hakone Tozan Train, Hakone Ropeway, and Hakone Sightseeing cruise, as much as you want. The Freepass is especially helpful in the Owakudani and Lake Ashi areas. In addition, this pass can be used for discounts at over 70 facilities in Hakone, making it a great deal.
How Much Money You Can Save

If you are using multiple transportation forms, you can save this much in total!
*Departing from Odawara Station and transfering.
*Valid for 2 days
Details
*Riding the Limited Express Romancecar requires a separate fee.
*Additional fees apply for riding and transfering outside of the specified pass area.
*Only one transfer can be made per round-trip on the Odakyu Line between your departing station and Odawara Station. (You can get off within the specified area an unlimited number of times.)
*You can get off within the specified area an unlimited number of times.
*Rides not valid with seasonal sightseeing passes.
*For the Odakyu Hakone Highway Bus, passengers holding a ticket with a reserved seat will have priority; if no seats are available, Hakone Freepass holders may be unable to board the bus.
*Services may be canceled because of severe weather conditions, etc. Hakone Freepass holders who were unable to use any of the different transport networks can obtain a refund for that portion at the final station of their trip. Please note that discounts are only available for a particular transport network if the Hakone Freepass holder was unable to use that transport network at all during the trip.
*The Hakone Freepass must be returned at the final station of the trip.
*Not valid for riding the Izu Hakone Bus.
*The Hakone Freepass is valid for the Seibu and Sagami lines, and some highway buses. Learn more here.
*Holders of the Hakone Freepass departing from Shinjuku can use the Odawara Hakone Highway Bus between Shinjuku and Gotemba for 1,000 yen (normal one-way fare is 1,610 yen).
Departing Station
Valid for 2 days
Valid for 3 days
Adults
Children
Adults
Children
Shinjuku
5,700 yen
1,500 yen
6,100 yen
1,750 yen
*Odawara, Hakone-Yumoto, Gotemba, Mishima, and other areas.
4,600 yen
1,000 yen
5,000 yen
1,250 yen
Vendors
The Hakone Freepass can be purchased up to one month in advance of its use. You can buy it at all Odakyu Line stations and at each Hakone Tozan Train station. Follow the directions at the ticket vending machine to purchase the pass. *Certain machines do not sell this pass.
*Credit cards are an accepted form of payment.
*Only the ticket windows at Hakone-Yumoto Station and Gora Station for the Hakone Tozan Train accept credit cards.
Mishima
-Mishima Station Information Center (Tokai Bus)
Gotemba
-Gotemba Center (Hakone Tozan Taxi Co., Ltd.)
Tokai Bus Orange Shuttle
-Mishima Station Information Center
-Numazu Station Information Center
Odakyu Travel Store
Online Lodging Reservations
*A separate fee may be required. Contact the store location for more details.
Major Travel Agencies
-Certain travel agencies will charge a separate handling fee. Contact the travel agency for details.
Unlimited rides between the spots indicated on the map of the Hakone area below
(marked with a woodpecker).