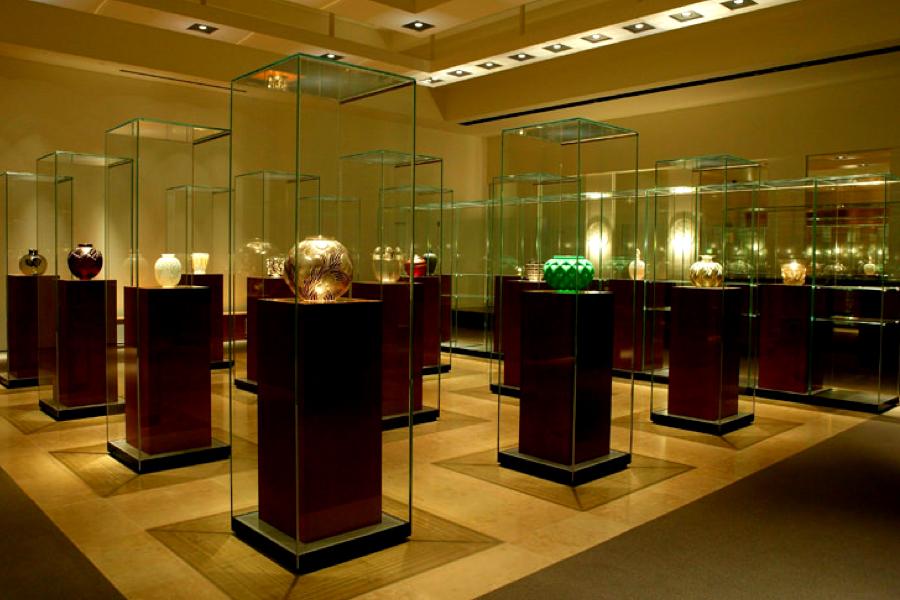 Enjoy Art! A Guide To Hakone's Famous Art Museums
*The videos presented in this article feature staff from each respective facility introducing the highlights of the museum. The videos are in Japanese, but please feel free to watch them as they give you a peek into what each museum looks like!
Hakone is home to several art museums where you can admire collections featuring famous paintings and modern art. Why not go on an extravagant trip visiting all of these places together?
Meet Monet and Renoir at the Pola Museum of Art
Pola Museum of Art is a museum built so as to blend into its surrounding greenery where you can enjoy Impressionist artworks. With a heavy usage of glass, the lobby has a high atrium that will make it feel very open as if you're visiting a forest in Hakone despite being inside.
The museum's collection is Japan's largest collection of Western paintings focused on Impressionist artworks by Monet, Renoir, and more. The museum possesses a collection of 10,000 pieces including Japanese paintings, Japanese Western-style paintings, glasswork, and cosmetic utensils.
Picasso and Henry Moore at the Hakone Open Air Museum
Japan's first outdoor art museum opened in 1969. In the spacious, 70,000 m2 grounds, over 120 art pieces representing the modern period, such as those from Rodin and Moore, are on display. The museum also houses five indoor exhibitions, including the Picasso Pavilion with a diverse collection of 320 pieces on display.
There are also play sculptures for children to learn how to make molds and sculptures, hot spring footbaths with water sourced from the grounds, and other features that allow visitors to spend a relaxing day here.
Encounter René Lalique at the Lalique Museum, Hakone
The Lalique Museum, Hakone introduces the life of René Lalique, a famous French jewelry and glasswork artist. You will be greeted by a beautiful collection that ranges from creative jewelry typical of Art Nouveau to perfume bottles and other refined glassworks.
The special exhibit (same-day reservation) on the Orient Express, decorated with glass panels made by Lalique, is also a must-see! This museum is where you can spend the finest day while enjoying both nature and art.
Saint-Exupéry's The Little Prince Museum
The Museum of Saint-Exupéry and The Little Prince in Hakone is a museum dedicated to "The Little Prince" and the life of its author, Saint-Exupéry. The early 20th century French townscape where Saint-Exupéry once lived and a European garden with seasonal flowers extend across the museum, allowing you to experience the world of "The Little Prince" while in a comfortable environment.
** The masking tape featured in the video is no longer available as of September 2016.
【Museum of Saint-Exupéry and The Little Prince in Hakone】
Admire Venetian Glass at the Hakone Glass Forest Venetian Glass Museum
The Hakone Glass Forest Venetian Glass Museum specializes in Venetian glass and is where you can view numerous delicate, beautiful masterpieces created between the fifteenth to nineteenth centuries. Gaze at Hakone's seasonally changing mountains and enjoy your meal while listening to genuine canzone performances by Italian singers in the museum's restaurant.
You can also spend your time calmly by shopping at the museum shop, which has a complete selection of 100,000 glass products, maple syrup-made fruit jams, and more.
【Hakone Glass Forest Venetian Glass Museum】
Oriental Beauty at the Okada Museum of Art
The Okada Museum of Art opened in Hakone, Kanagawa Prefecture, Japan in 2013. Okada Museum of Art displays approximately 450 artworks. Japan's leading artists including Katsushika Hokusai, Kitagawa Utamaro, Tawaraya Sotatsu, and Ito Jakuchu,all have their artwork on display here so this museum is definitely a must-see.
In front of the mural "Wind/Time" depicting the Wind God and Thunder God are footbaths with constantly flowing 100% natural hot spring water (No hydrolysis-warming). This alkaline hot spring water is perfect for relaxing after enjoying the Museum.
*The information in this video is current as of September 2015.
Japanese Paintings at the Narukawa Art Museum
Located in a spot with an entire view of Lake Ashi, this art museum possesses 4,000 modern and famous Japanese paintings such as those made by recipients of the Order of Culture – Kyujin Yamamoto, Ikuo Hirayama, and Matazo Kayama being some examples, to young artists.
The exhibitions undergo changes every season so that the museum can be enjoyed throughout the year. After enjoying the artworks, you can comfortably relax while gazing out onto Lake Ashi and Mt. Fuji from the Panorama Lounge, a spacious observatory and tea lounge that stretches a total of 50 m.
Japanese Pottery at the Hakone Museum of Art
The Hakone Museum of Art, opened in Gora, Hakone in June 1952, is the art museum with the longest history in Hakone. The museum focuses on Japanese pottery produced between the Jomon and Edo periods (1603 – 1868), including jars and pots of the rokkoyo (*1) manufactured between the Kamakura period (around 1185 – 1333) and Muromachi period (1336 – 1573).
On the museum grounds, you'll find a moss garden with 130 moss species and 200 maple trees, a bush clover path, and a bamboo garden that allows you to enjoy its seasonal views. Particularly the landscape in November is when the maple trees in the garden simultaneously change colors and is famous as a spot for the viewing the autumn leaves.
*1 Rokkoyo (Six Ancient Kilns): a general term for the six areas of Echizen, Seto, Tokoname, Shigaraki, Tamba, and Bizen that are famous for exemplary ceramics continually produced from medieval to modern times.
Photo Art at the Hakone Museum of Photography
This photography museum was established by Katsura Endo, a Hakone-born photographer. He is also the grandchild of Ohsui Yamada, a landscape photographer that was active between the Meiji (1868 – 1912) and Showa periods (1926 – 1989). The museum features photography equipment from as early as the period of the photography plate to modern technologies.
There is also a collection centered on the photographs and documents of Hakone-associated photographers. Their permanent exhibit features photographs of Mt. Fuji by Katsura Endo that were continuously taken over a course of 20 years. The project exhibit holds exhibitions on collections or photographs by artists from both Japan and abroad.