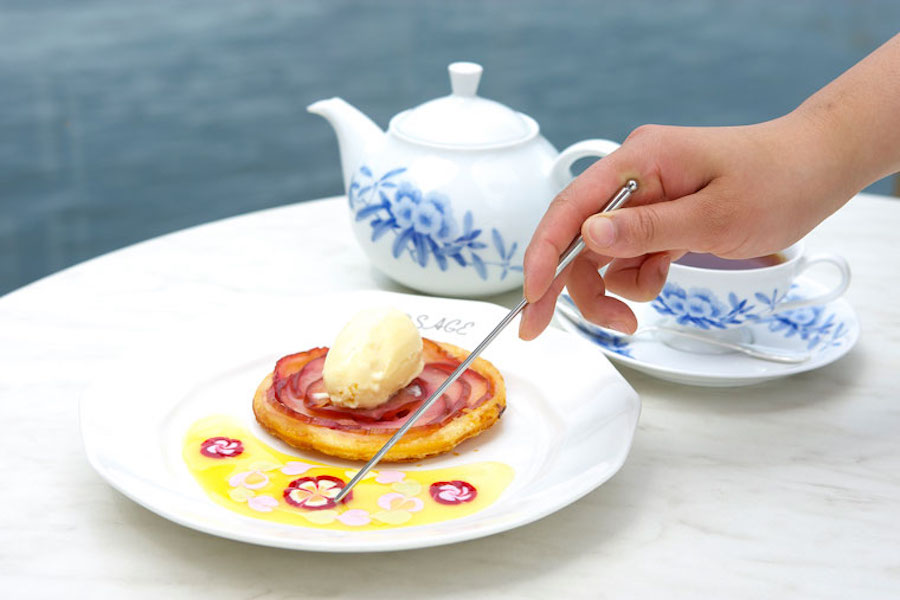 Time For A Relaxing Break! Recommended Cafes Near Lake Ashi
There are many wonderful sightseeing spots around Lake Ashi. While waiting to get on board the Hakone pirate ship that crisscrosses the lake, during the time before your hotel check-in, or when tired from all the walking during your trip, how about taking a short break at a cozy cafe?
In today's article, we'll introduce the best cafes in the Lake Ashi area where visitors can take a rest, along with staff recommendations on how to enjoy your visit there even more.
cafe KOMON - A Sophisticated Cafe with an Extensive Original Menu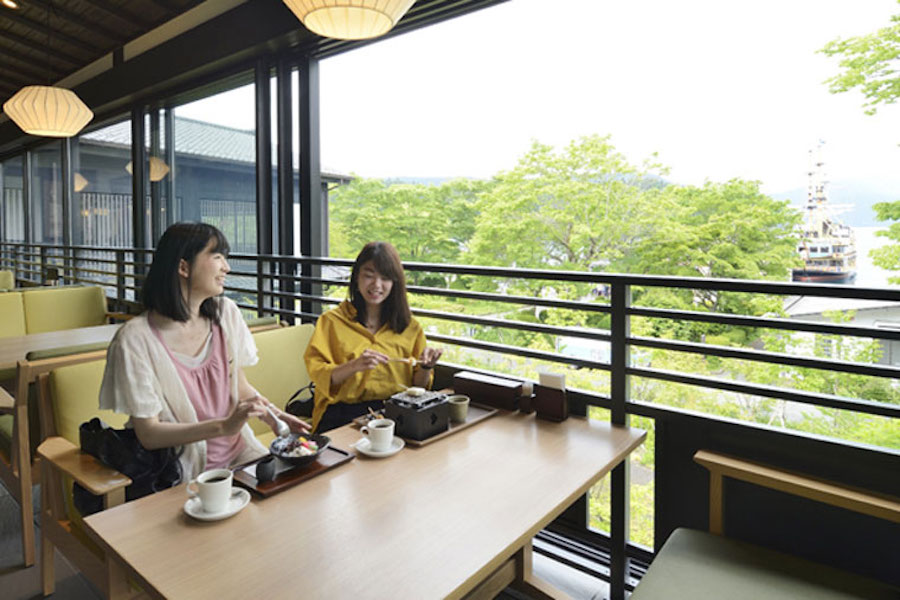 First we would like to introduce cafe KOMON. It has a wide-open, spacious atmosphere with floor to ceiling picture windows. Just one minute from Hakonemachi-ko on the shore of Lake Ashi, cafe KOMON is located on the second floor of HOTORIYA, so if you have some time before boarding the Hakone pirate ship you can relax here for a while.
From the terrace, you can see Lake Ashi and the Hakone pirate ship. On days with good weather, you can gaze out at the beautiful Mt. Fuji. There's a full original menu including the HOTORIYA special pancake (1,020 yen excluding tax) that comes to your table on a piping hot iron pan, and the HOTORIYA special blend coffee (700 yen excluding tax) which uses carefully selected coffee beans.
We recommend getting a single pancake order and splitting the large portion among two or three people. The appealing menu offers a wide variety of items that will satisfy your hunger, including the Honjin hamburger steak (1,350 yen excluding tax), the Pasta plate with a quiche (1,560 yen excluding tax) made with sakura shrimp, and many other selections.
Staff Recommendation - Chat About the Events of Your Trip while Baking Your Snack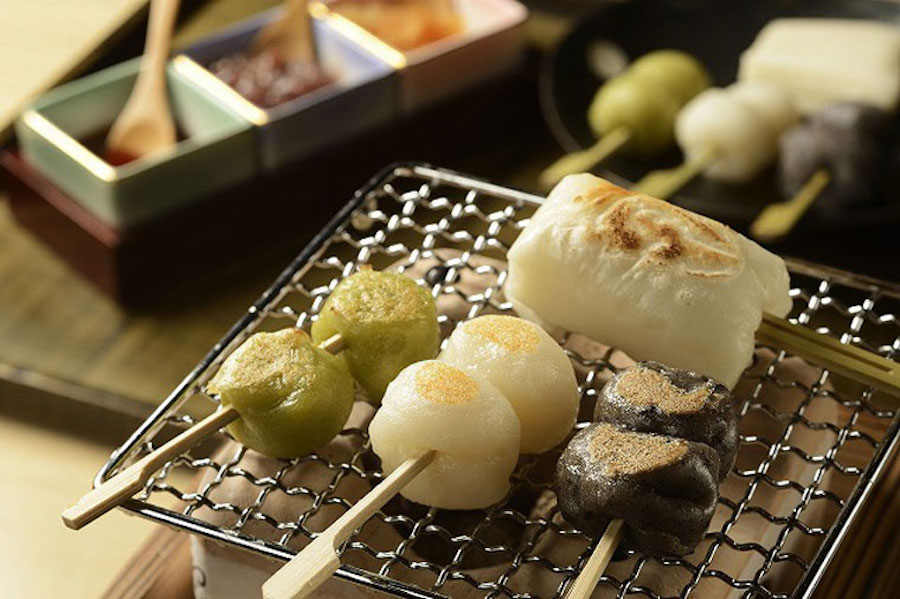 The staff's most recommended item is the Honjin Dango (*1) that costs 1,020 yen excluding tax. While sitting around the shichirin grill (*2) you can enjoy chatting about the highlights of your trip.
After baking dango with green tea, black sesame or other flavors, dip them into sweet bean paste, honey, or grated daikon to make a great flavor combination. Baking the dango by yourself and then sampling its taste is a fun experience that will heighten the excitement of your trip.
*1 Dango: Japanese sweet dumplings made with flour (made from rice, millet, etc.) mixed with water and formed into a ball. They are boiled, steamed, or baked on a grill.
*2 Shichirin: a small charcoal grill with a clay or ceramic base.
Salon de Thé Rosage - Extravagant Teatime in a Special Ambiance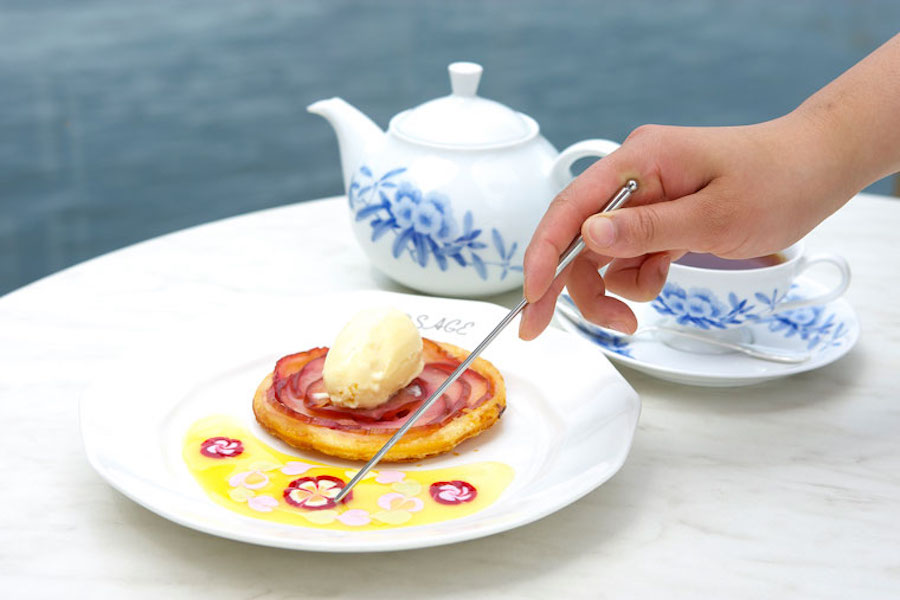 Part way along the route from Motohakone-ko to Odakyu Hotel de Yama, a resort hotel with a history of some seventy years, there's a cafe that looks like it's floating on the surface of Lake Ashi. This is Salon de Thé Rosage, a dessert restaurant directly managed by Hotel de Yama. It's close to Hakone-jinja Shrine, so it might be the place where you'll want to take a well-deserved break after walking extensively around the shrine grounds.
We recommend a terrace seat from where you can see all of Lake Ashi and the nearby mountains. This is a special space where you can admire the nature of Hakone and ideal for you to fully enjoy a genuine cup of tea and a tasty original dessert.
Hot apple pie with vanilla ice cream, a traditional Rosage favorite, is brought to your table and the final plating of this dish is completed right in front of you (see photo above). This makes the perfect picture for sharing with friends and family on social media. If you visit Salon de Thé Rosage, the superb apple pie is definitely an item worth ordering.
Staff Recommendation - Select Teas at Salon de Thé Rosage Make the Ideal Souvenir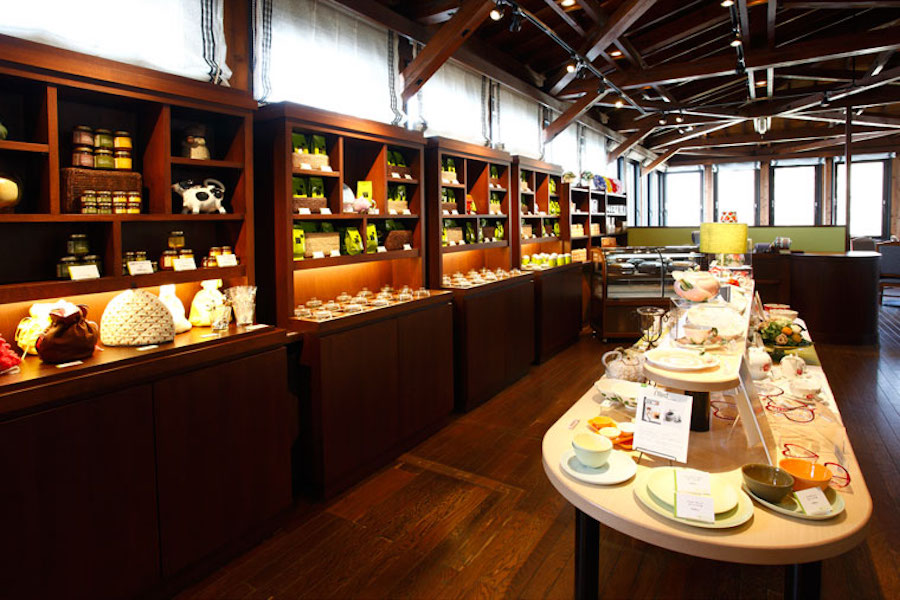 At the premium shop on the second floor, you can purchase home-made cakes and original jams created by the patissier at Salon de Thé Rosage. The shop proudly offers a large selection of high-quality teas and souvenir sweets, so find the item that catches your eye and take home a bit of Salon de Thé Rosage with you. We recommend buying a souvenir for your family, friends, or partner at this shop.
Museum Cafe Kisetsufu - Spend Some Leisure Time Gazing Out at Mt. Fuji
Kisetsufu is a museum cafe that bears the name of one of the masterpieces of Japanese artist Yamamoto Kyujin, whose works are housed in the Narukawa Art Museum. While sipping green tea out of precious hand-crafted pottery cups, enjoy a relaxing break during your trip.
On sunny days a beautiful Mt. Fuji comes into view from the rear of Lake Ashi. While gazing out at the Hakone mountains in the spring, you can experience the leisurely passing of time amidst a relaxed atmosphere.
The shop's most popular items are the hot sandwich set (1,300 yen including tax) and the cake set (1,080 yen including tax). While enjoying something light to eat, it'll be great to look back on your trip, and also plan the next stage of your journey.
*To enter the cafe, the museum's admission charge is required (1,300 yen including tax)
Staff Recommendation - Narukawa Art Museum's Garden Is a Well Kept Secret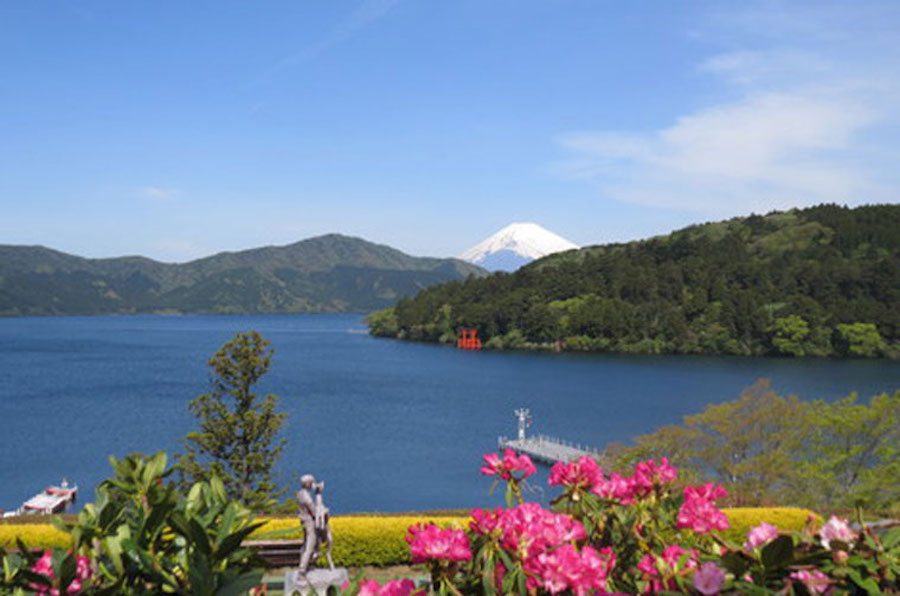 After a satisfying snack at Tea Lounge Kisetsufu, let's take a look at the extensive collection of contemporary Japanese paintings in the Narukawa Art Museum. With the beautiful colors of Japan's post-war paintings still lingering in your memory, you'll feel soothed and refreshed here.
Also, when you open the door to the museum's Panorama Lounge, the lush greenery of the garden down below makes its appearance. The scenery from here is said to be the best view of Lake Ashi. In the summer the gold-banded lilies bloom and in the autumn the leaves transform into a myriad of colors. This place might just be the perfect place to stop for a break during your Hakone trip.
Bakery & Table Hakone - A Popular Cafe That's Ideal to Take a Break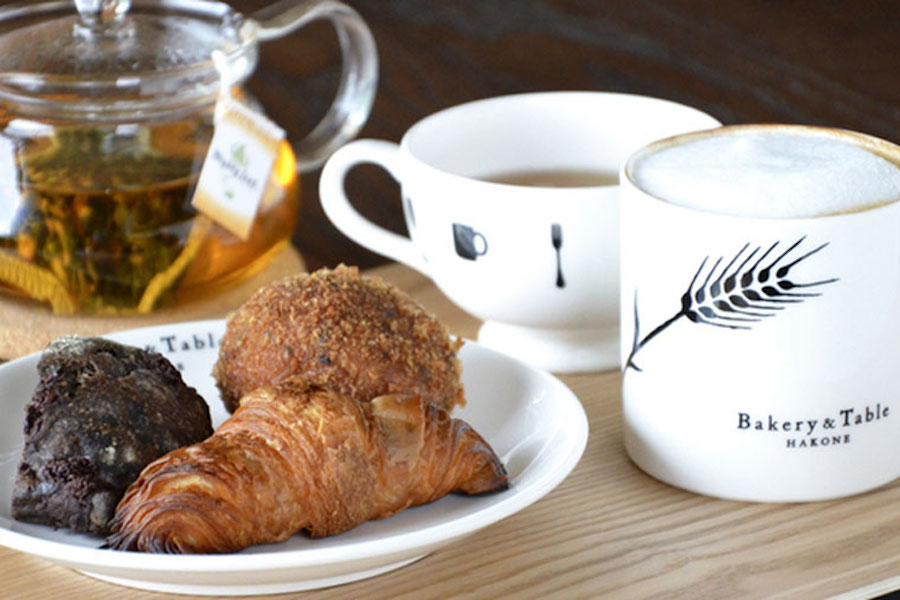 This is a popular cafe where you'll have to stand in line even on weekdays. The first floor houses a bakery, the second floor features a spacious cafe, and there's a restaurant with a charming open kitchen on the third floor. After buying your favorite bread item on the first floor, order some black tea or organic tea brewed by a barista. We highly recommend a window seat from where you can see the large panorama of Lake Ashi spreading out before your eyes.
There's a full drink menu that features visually appealing and unique items including the Lake Ashi Float (600 yen), which recreates the scenery of Lake Ashi using orange-flavored ginger ale and ice cream, and the Zunda Frappe (600 yen), which takes advantage of the sweetness and crunchy texture of zunda (*3). Even during your break, this is a shop that will keep you excited about your trip.
*3 Zunda: a sweet paste made by crushing young boiled soybeans (edamame) and then adding sugar. It is often used in Japanese sweets (wagashi).
Staff Recommendation - Sit Outside to Enjoy Your Takeout Sweets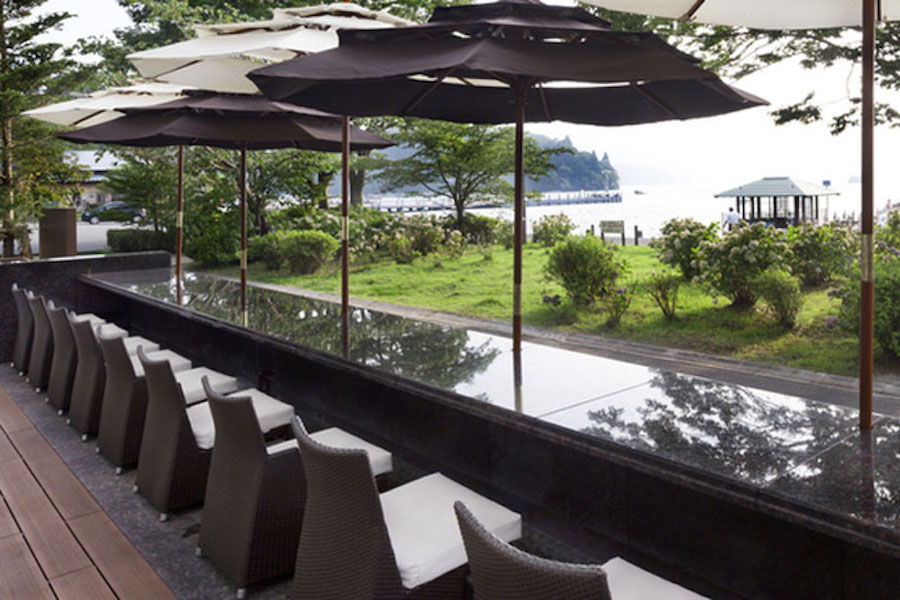 In addition to the bakery, the first floor also features a parlor with an outdoor terrace. The staff recommends that you buy a drink and some sweets that go well with your bread purchase, then to go out onto the terrace where there is a footbath. While comfortably seated on the terrace, you can relax as you enjoy the picturesque view of Lake Ashi.
Pan de Soft (390 yen including tax), is a cup filled with freshly baked bread that's diced into cubes and sprinkled with homemade honey syrup, all covered with soft cream made using rich tasting Tanna milk. It makes the perfect accompaniment to this cafe experience. While sampling this exquisite dessert let's gaze at the magnificent scenery of Hakone.