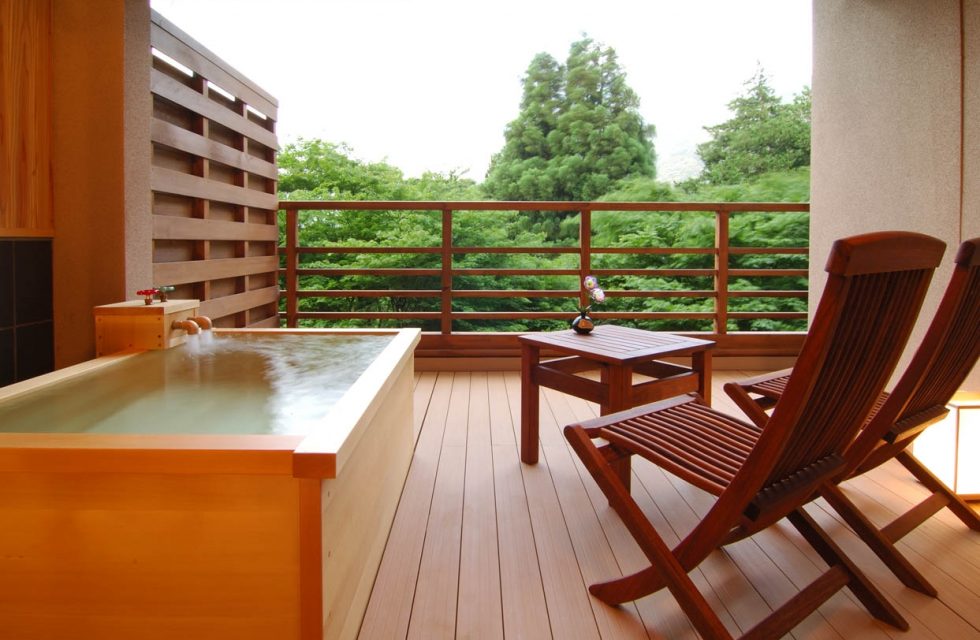 11 Relaxing Accommodations with Open-Air Baths
Hakone is often associated with hot springs. Accommodations with rooms that have open-air baths are what we suggest to those who want to spend time soaking in the hot springs without worrying about their surroundings.
Guestrooms with open-air baths may have a high class image in Japan, but recently these rooms have been available at relatively reasonable prices. Rooms with open-air baths are extremely popular, so we suggest that you make your reservation as soon as possible.
Hakone Kowakien Ten-Yu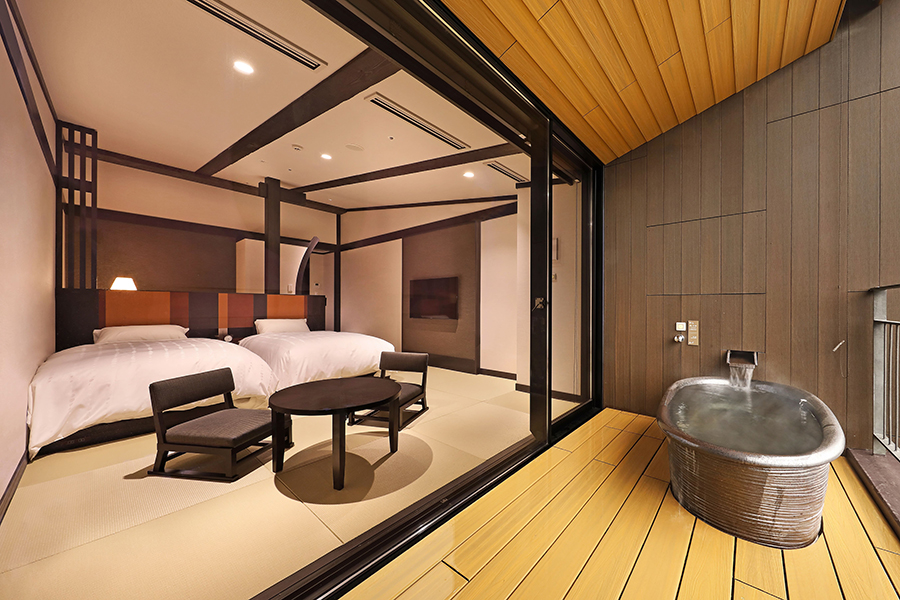 Area: Kowakidani
This ryokan opened in April 2017. All rooms come with an onsen rotemburo (*1) with amazing views, allowing you to relax as you bathe while experiencing Hakone's nature.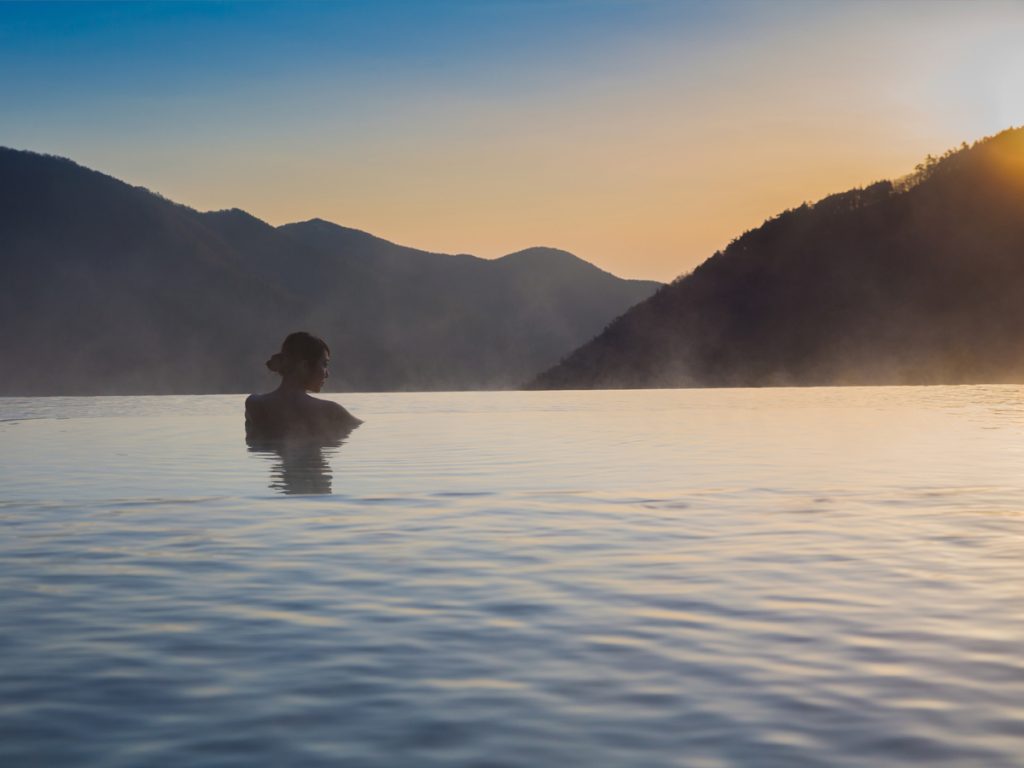 Ukigumo, the communal bath on the sixth floor, is a must-visit and gives an amazing view of the mountains surrounding Hakone. This is the perfect inn for those who want to enjoy a trip that will give you lasting memories with your loved ones or if you want a slightly luxurious trip as a reward to yourself.
*1 Onsen Rotemburo: an open-air bath drawn from a hot spring.
Hakone Ashinoko Hanaori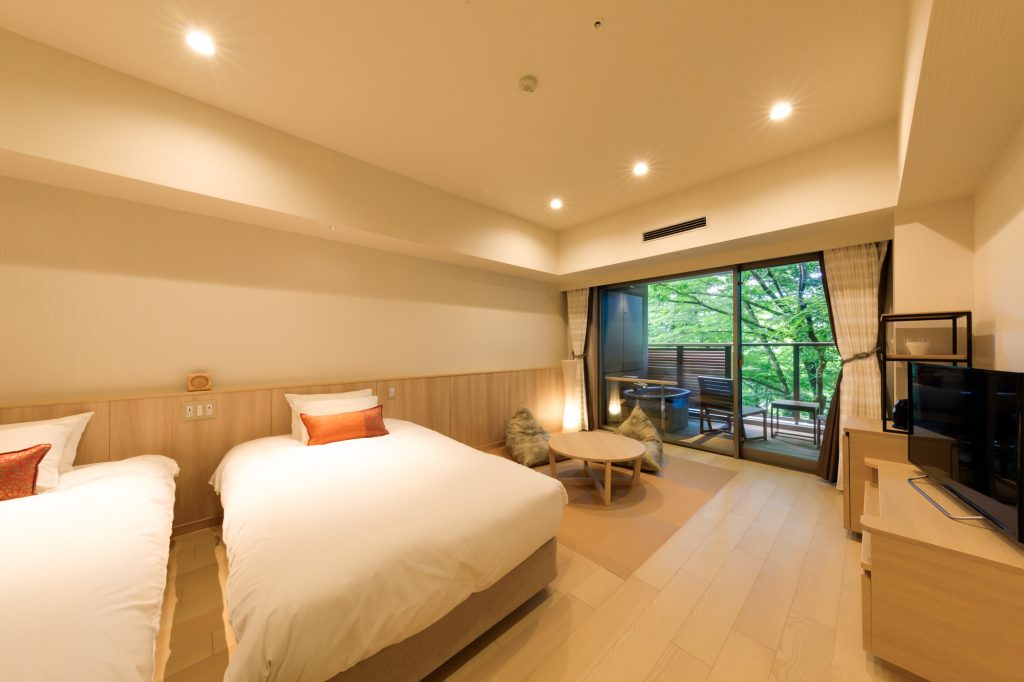 Area: Lake Ashi
This ryokan opened in July 2017. It immediately became a popular accommodation for its reasonable prices, amazing access from Togendai Station in just two minutes, and its great feature of having guestrooms with open-air baths.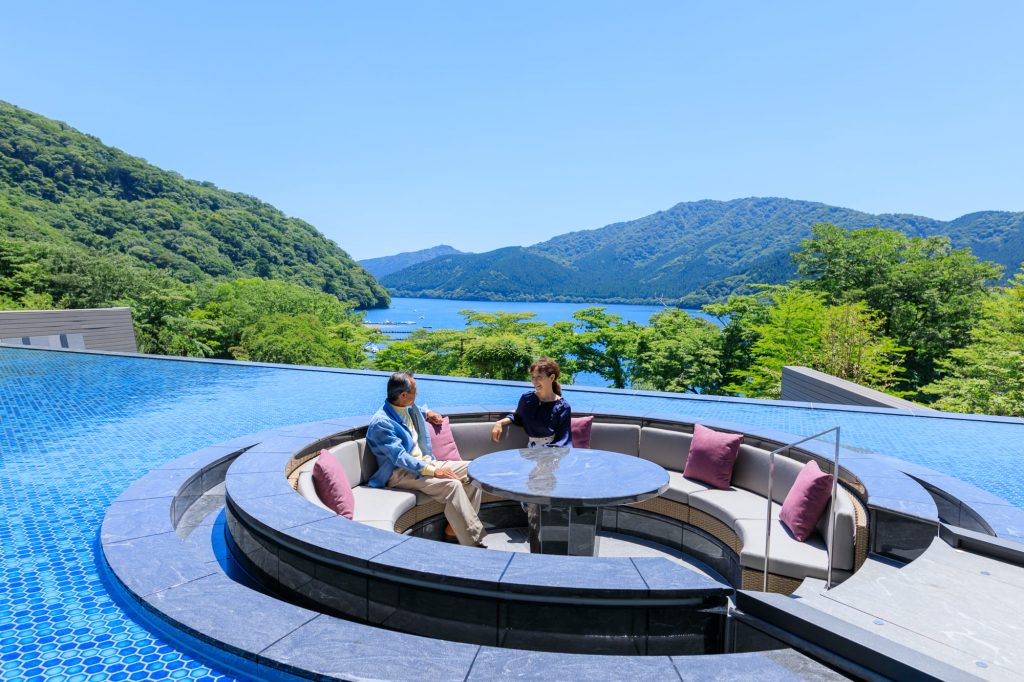 The inn is also famed for the amazing scenery that can be viewed from the terrace. Enjoy your stay with your camera on-hand.
Mizunoto Suika no Sho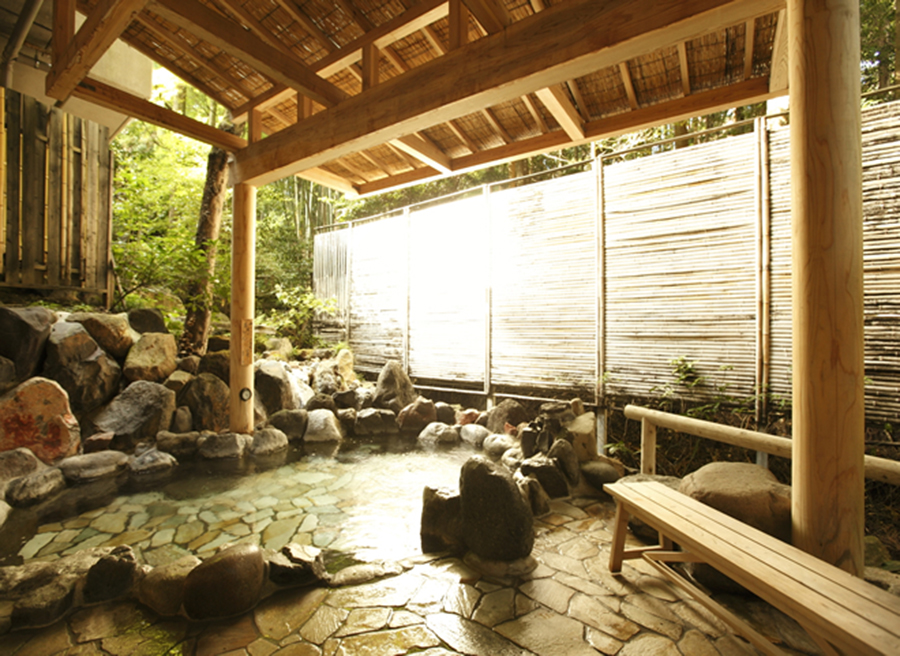 Area: Kowakidani
Even if we were to describe hot springs in one word, the types of hot springs found in Hakone are numerous. You can enjoy two different types of hot springs at Mizunoto Suika no Sho.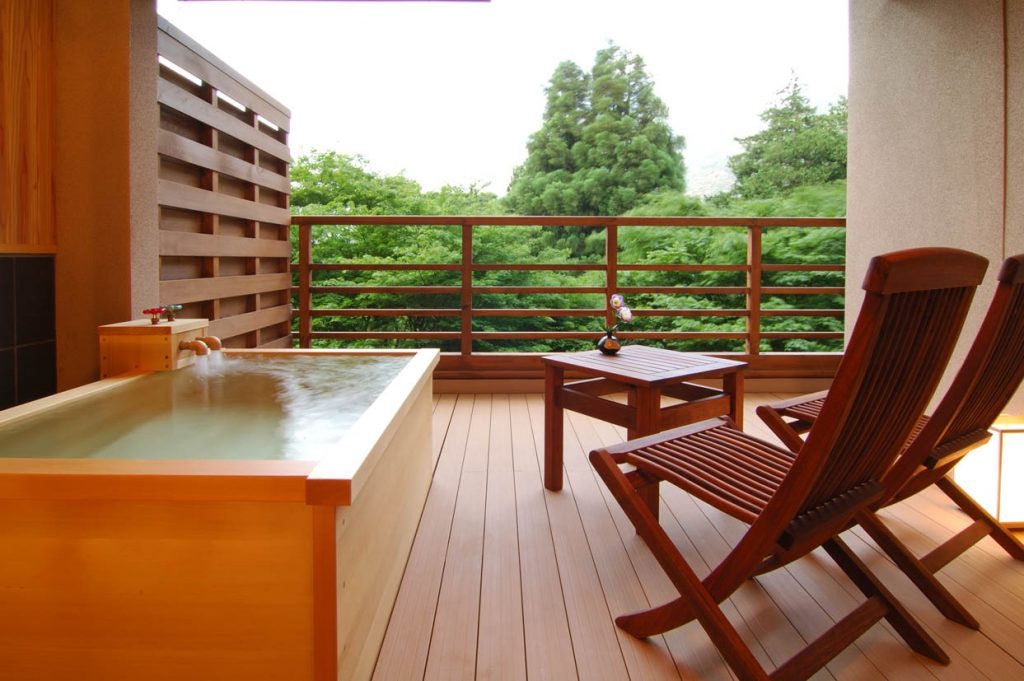 The large communal bath draws its water from two sources: the alkaline Kowakidani Onsen, said to prevent dry and dull skin, and Miyanoshita Onsen, which has waters believed to increase your metabolism and makes it possible to experience faster results when dieting. Skincare lovers are really fond of this facility for its hot springs that help maintain beautiful skin. Guestrooms with open-air baths are also available.
Suiun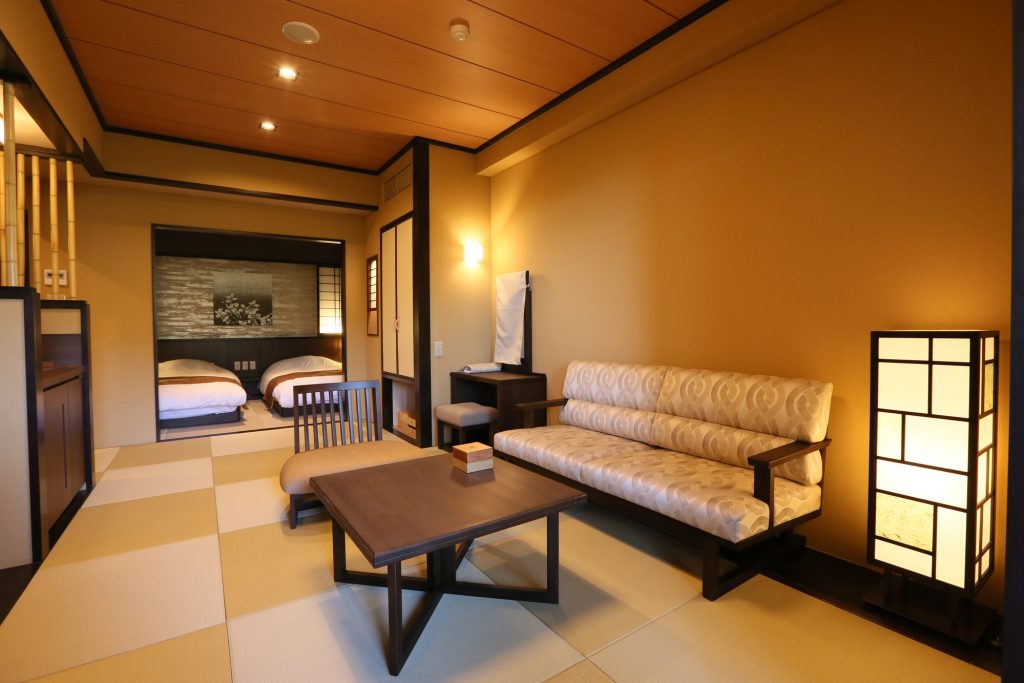 Area: Gora
This new ryokan opened in December 2017. Based on the concept of a "hot spring resort," all guest rooms have been installed with open-air baths.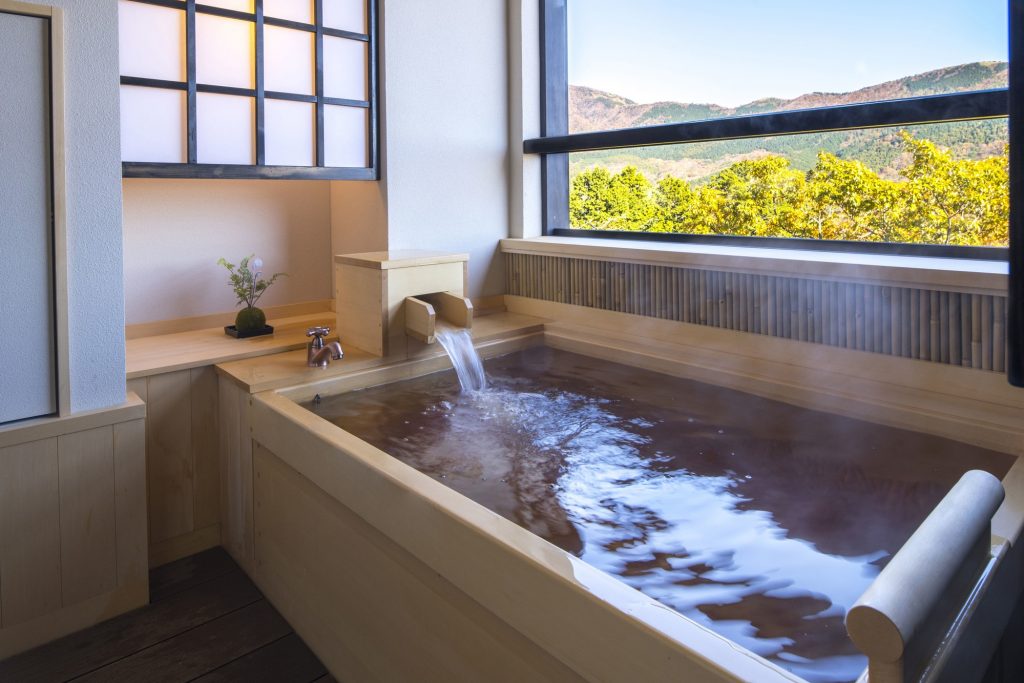 You can fully enjoy three types of hot springs: the baths in your room, the communal baths, and the free reserved private bath. Those traveling with family should exercise caution as children that are elementary school age and under are unable to stay at this inn.
Tokinoyu Setsugetsuka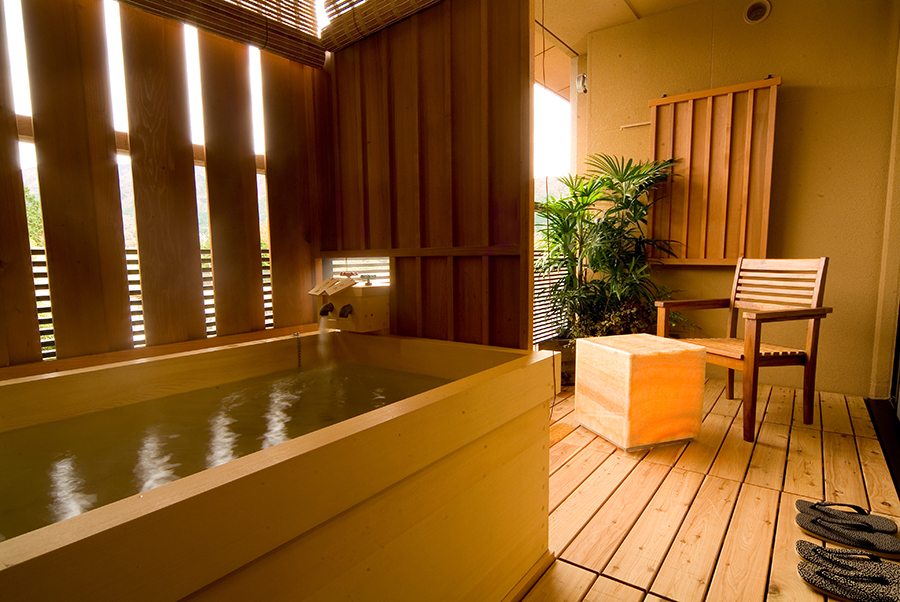 Area: Gora
Located a minute's walk from Gora Station, this is an extremely popular ryokan in Hakone where you can enjoy hot springs together with delicious meals. All guestrooms are fully furnished with open-air baths that use Japanese cypress bathtubs.
As you're bathing, you can enjoy the outdoor scenery together with the delightful fragrance of Japanese cypress wood. Guests that choose a reservation plan with dinner can choose either the Japanese kaiseki meal (traditional Japanese course meal) or the wagyu beef shabu shabu and sushi course.
** The communal baths are drawn from a hot spring, but the water in the guestroom baths are not drawn from spring water.
Sara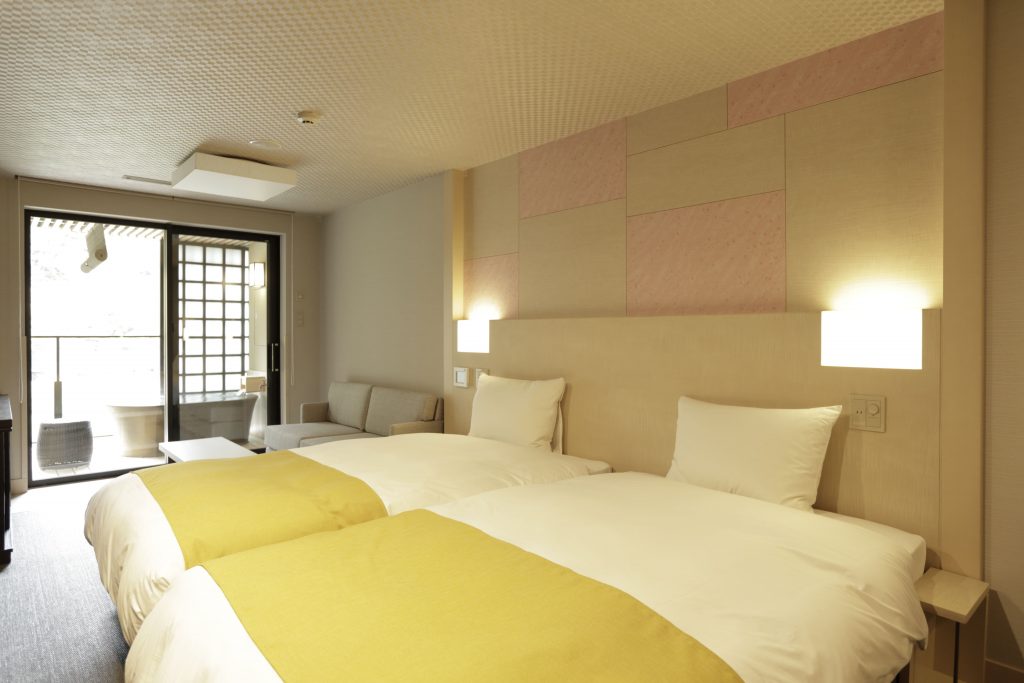 Area: Hakone-Yumoto
Sara is a Japanese-style designer hotel situated along Sukumogawa River in Hakone-Yumoto. The hotel is most unique for its interior with a moon and yosegi-zaiku (*2) motif.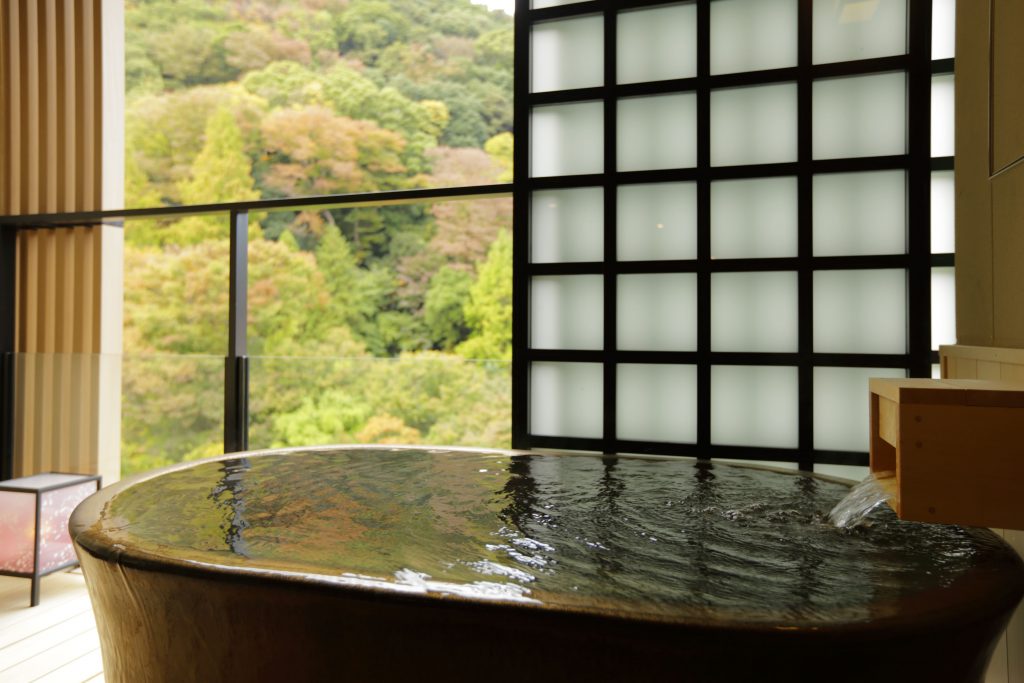 The hot springs available include those in the guestrooms, the communal baths, and free reservable private baths located in two areas. Soft drinks and alcohol are also available as a free service, allowing you to fully quench your thirst after bathing.
Another great aspect is being able to choose your dinner from three options – Wagyu beef sukiyaki, wagyu beef shabu shabu, and seafood shabu shabu. Have your fill of hot springs, food, and drinks in this refined hotel.
*2 Yosegi-zaiku: a woodworking craft consisting of combining several types of woods together to create a design.
Aura Tachibana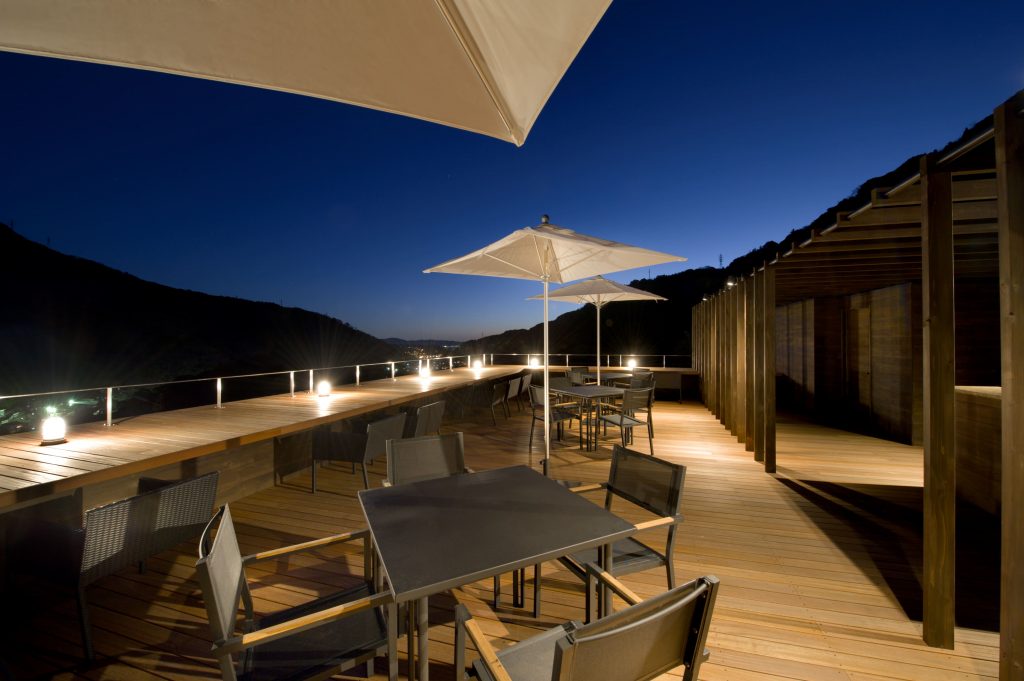 Area: Hakone-Yumoto
The word "aura" in Greek means "a gentle breeze." As fitting of its name, the inn has a wide open space that allows guests to feel the breeze.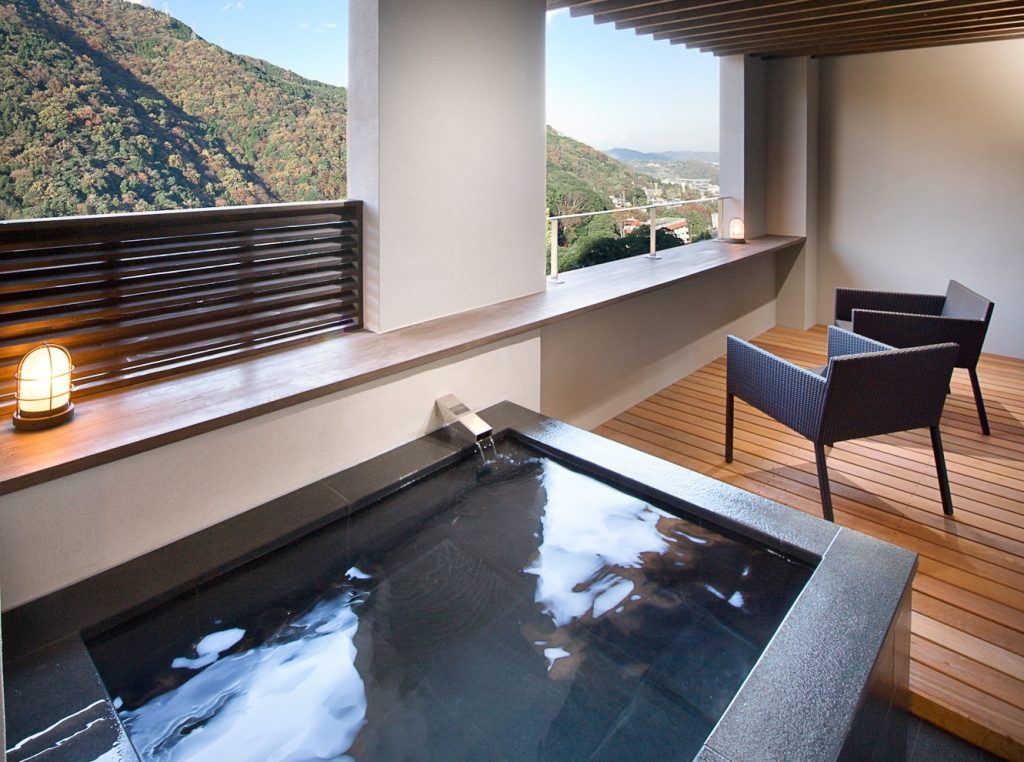 A semi open-air bath is installed on the terrace of each guestroom to allow a view of the outdoors. You can enjoy soaking in the tub without worrying about the time. Reservable private open-air baths are also available on the inn's top floor, allowing you to spend a relaxing time in the hot springs while feeling the blowing wind.
Hakone Airu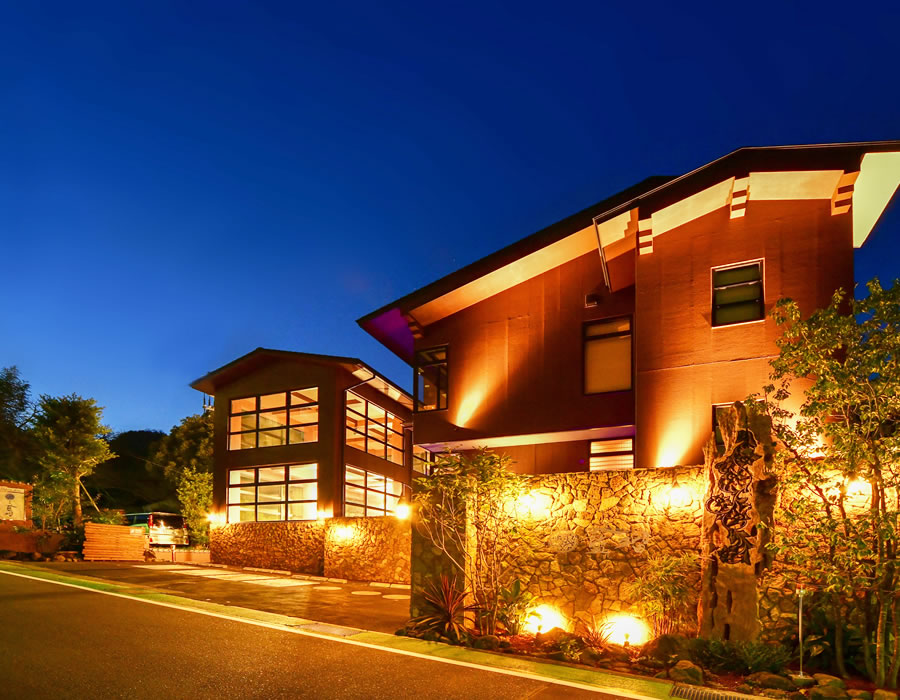 Area: Hakone-Yumoto
Opened in December 2017, this facility evokes the feeling of a Bali-style resort hotel and is unusual in Hakone. The entrance lobby is decorated with running waterfalls, giving it a truly tropical ambience from which you can experience a sense of the extraordinary.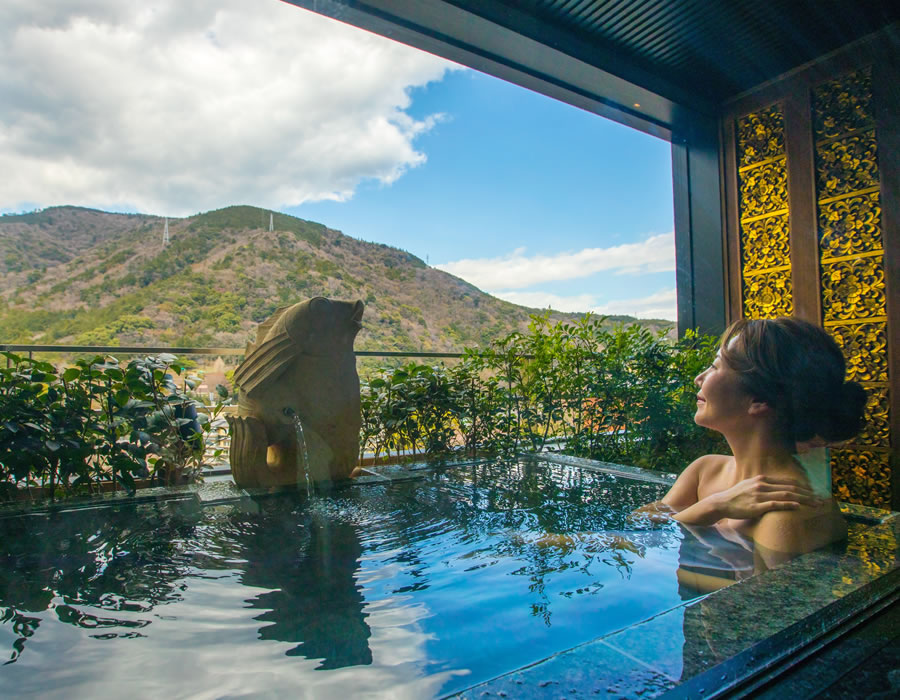 Its unique feature is that each guestroom is equipped with an open-air bath despite being a Bali-style hotel. Fully appreciate a view overflowing with a sense of freedom from an open-air bath. Enjoy your travels relaxing both your mind and body while in a tropical atmosphere.
Hotel Okada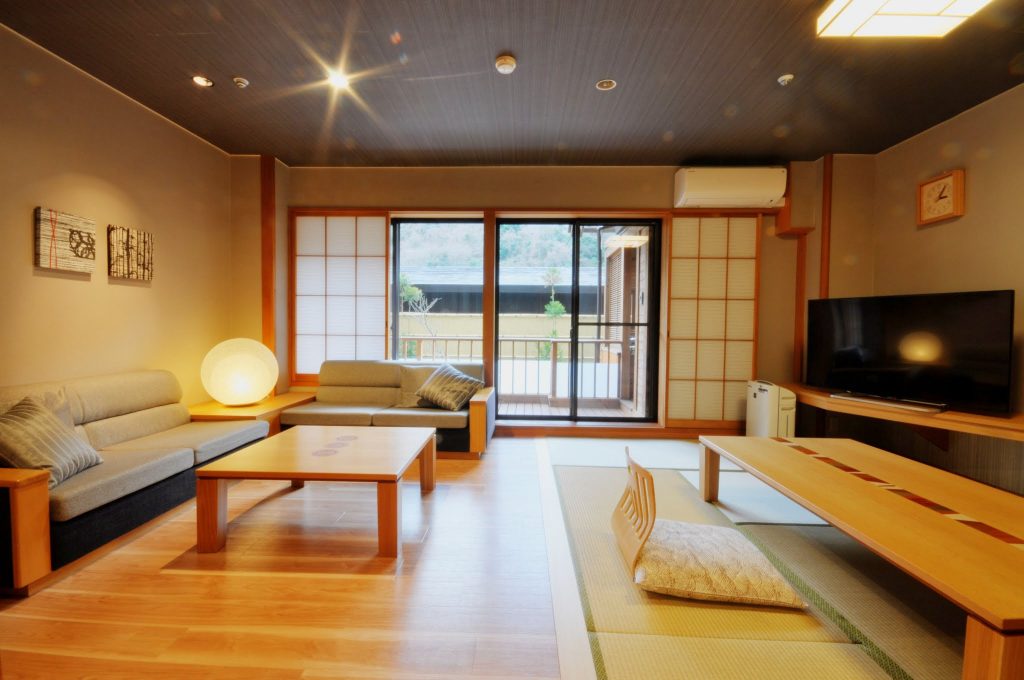 Area: Hakone-Yumoto
This is one of the largest lodging facilities in Hakone-Yumoto. Out of its 122 rooms, fifteen of them come attached with a hot spring open-air bath.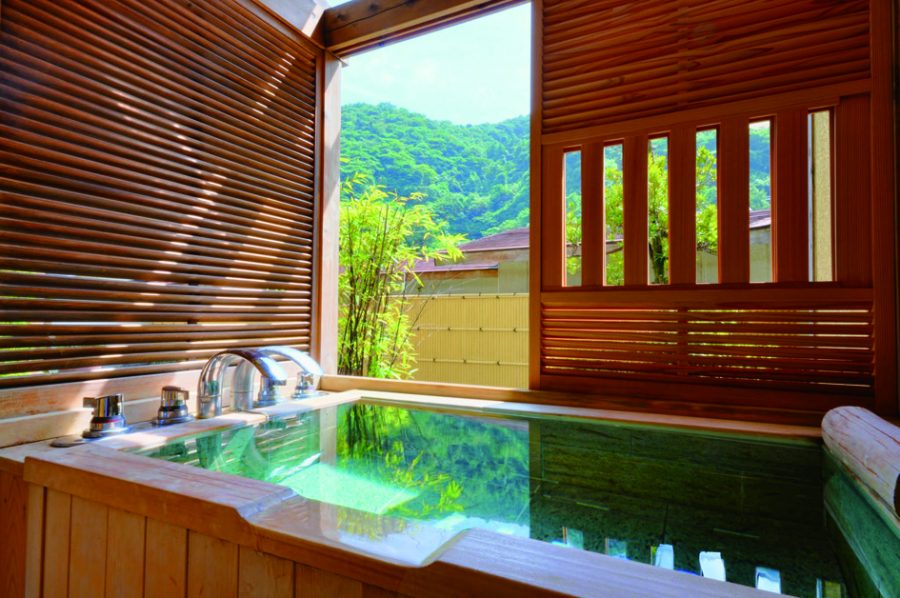 The Yuan rooms (six rooms total) in the New Wing are also come with in-room meal service, making it possible for guests to take their time enjoying dinner in their rooms, as well as a photo service. This is likely to become a stay that will leave lasting memories for those who visit Hakone on their anniversary.
Hotel Nanpuso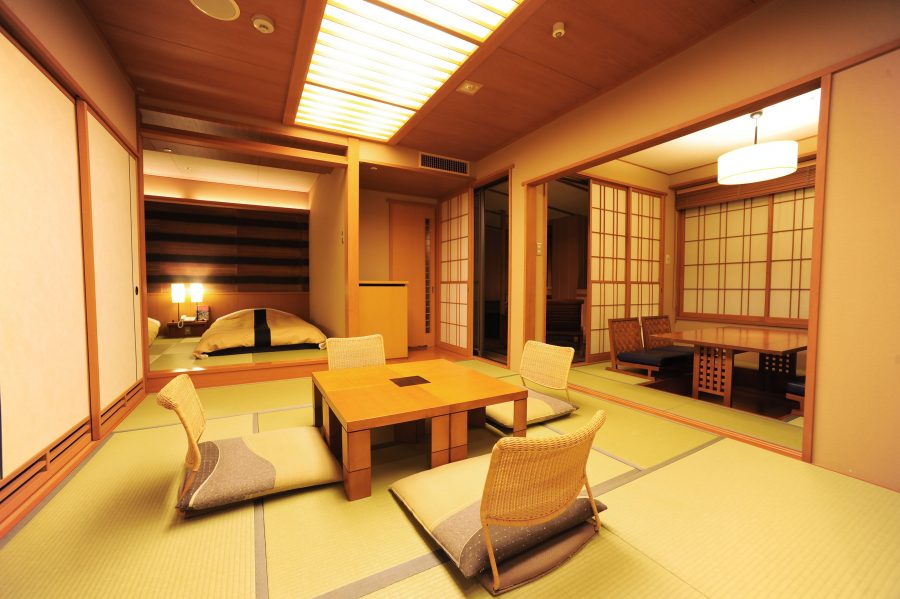 Area: Hakone-Yumoto
Takidori Onsenkyo is a hot spring village located in an area filled with nature in spite of being in Hakone-Yumoto. You can fully enjoy both the bustling atmosphere of a hot spring and the silence of a forest located deep in the village with Hotel Nanpuso.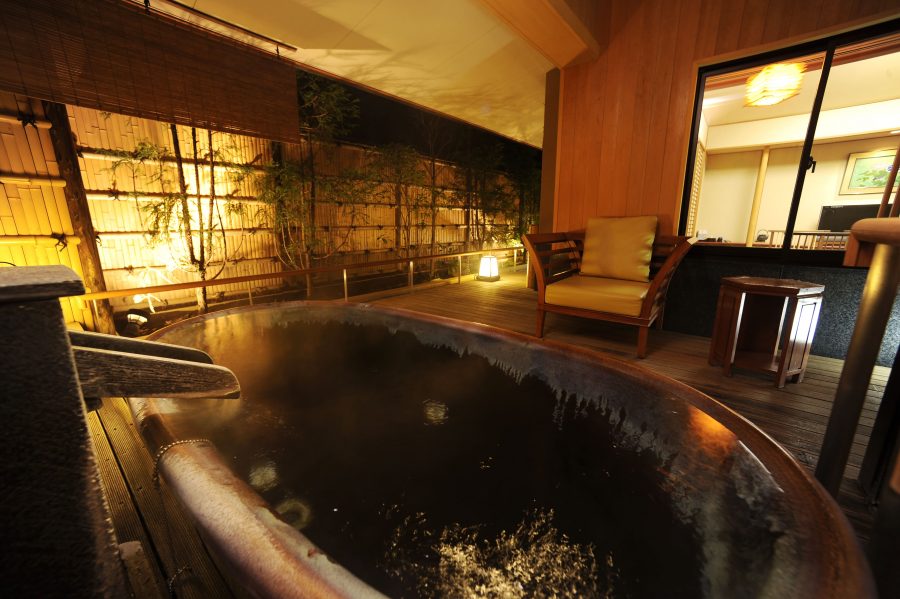 Open-air baths that draw their water from a hot spring are found in the Japanese-style rooms allowing guests to bathe whenever they want. On the other hand, at the open-air baths in the communal baths, you can fully enjoy the hot spring while listening to the murmurs of Sukumogawa River that runs below. If you're someone who is busy everyday, how about having a pleasant time at Hotel Nanpuso?
Hakone Suimeiso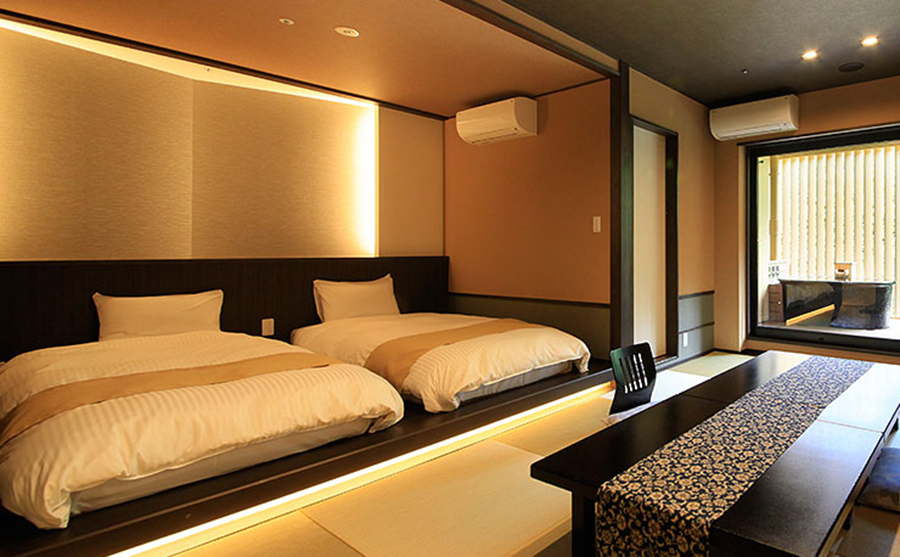 Area: Hakone-Yumoto
A two minute walk from Hakone-Yumoto Station, this is the perfect ryokan for enjoying a stroll through Hakone.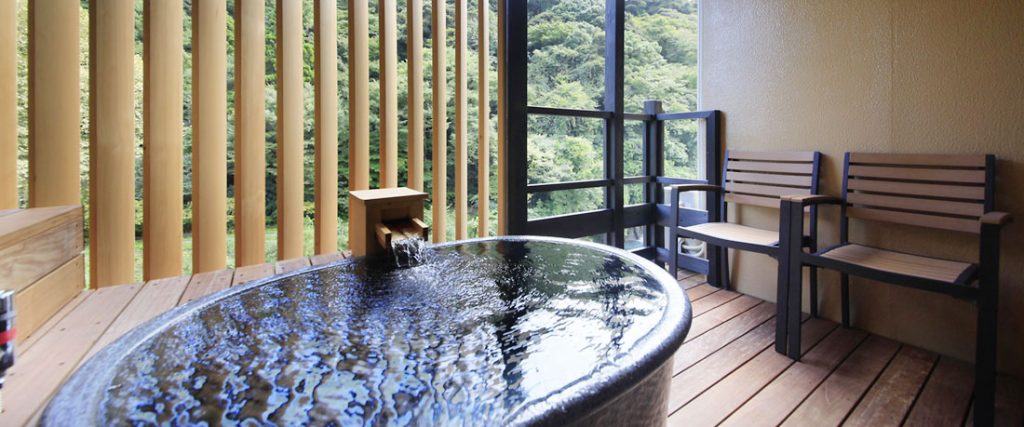 The open-air baths in the guestroom, drawn from spring water, allows guests to bathe while listening to the murmurs of Hayakawa River running nearby. A reservable private bath is also available on the top floor for a fee. The inn is very open and spacious. We recommend this inn to those that wish to fully enjoy both nature and hot springs near the station.
Hakone Highland Hotel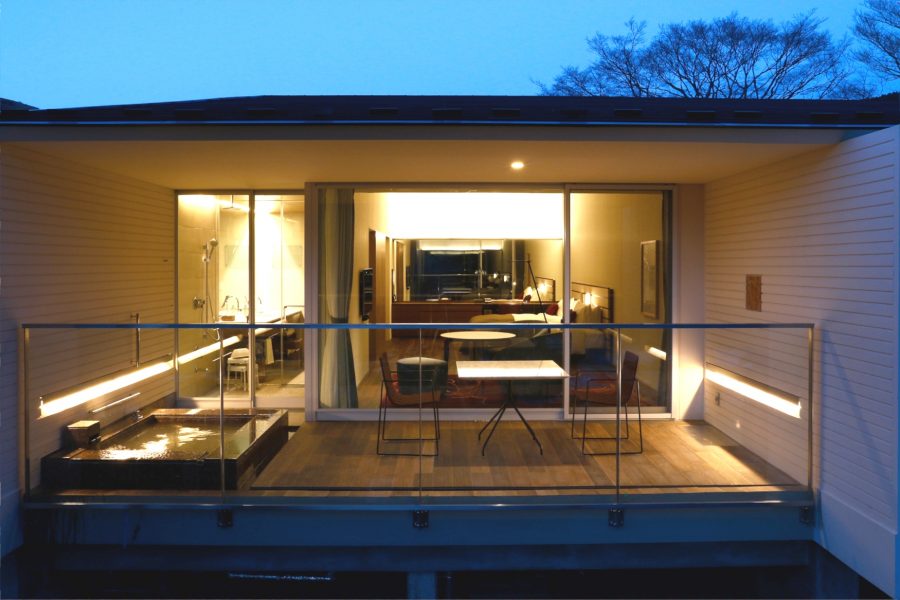 Area: Sengokuhara
A hotel located in the Sengokuhara area along with a row of art museums. Found on the hotel's vast grounds are the main building and annex, a lawn stretched across the garden, a dog park, and more. The guestrooms are a sophisticated space designed by Mr. Noriaki Okabe, the person who was also responsible for the design of the Odakyu Romancecar.